Announcing Dan Navarro Concert Cruise XXII • 8/27 - 9/5/24
9-night Western Mediterranean adventure on Celebrity's Equinox
Departs Barcelona, Spain • Visits Seville (Cadiz), Spain • Lisbon, Portugal (overnight!) • Porto (Leixeos), Portugal • Tangier, Morocco • Returning to Barcelona!
Dan's Concert Cruise has been an uplifting music lover's delight since 1998, creating spine-tingling experiences, lifelong memories, and lasting friendships.
Here's what's included...
• Meet & Greet event, three private concerts, Q&A / Storytelling session and group dining with Dan, plus...
• Nine nights accommodations
• Pre-paid gratuities included...a $324 per cabin value!
• Free wifi surf package...a $360 per cabin value!
• Free Classic Drinks package...a $1242 per cabin value!
• Full range of shipboard activities and entertainment
• All meals and some snacks featuring Celebrity's fine dining
• Full gambling casino
• Duty-free shopping on board
Early booking BONUS: Book and deposit by October 26, 2023, and receive $200 per stateroom onboard credit for Veranda and above; $100 per stateroom for oceanview and inside staterooms
Pricing starting at $2199 per person double occupancy, with higher category accommodations available. Visit www.fanclubcruises.com for complete pricing.
NOTE: This is an exclusive program available only for passengers booked through Fan Club Cruises. If you book directly with the cruise line or another travel agent, you will NOT be able to attend these events.
"Horizon Line" — the new album by Dan Navarro
Available now for direct download. CDs too!
Produced, recorded and mixed by seven-time Grammy®-winner Jim Scott, former Lowen & Navarro producer.
"In every song, every conversation, every melody, every moonlit drive, every note, every moment, Dan Navarro seeks that connection thts defies words. The Horizon Line is not a destination — it is the momentary focus of a soul seeking beauty in every moment."
                         — MarySue Twohy, Sirius XM, Program Director
Ten songs of hope and inspiration...time and love, battles won and lost, of holding on and letting go, and the drive onward into the vanishing point.
Written and co-written by Dan Navarro, with guest appearances by Steve Postell, Doug Pettibone, Brian Whelan, Taras Prodaniuk, Mai Leisz, Jimmy Paxson, Michael Jerome, Phil Parlapiano, Peter Adams, Carlos Murguía, Leyla Hoyle, Aubrey Richmond, Jim Scott and Derek Nakamoto.
Now airing at hundreds of Americana, Non Comm and Folk Radio nationwide.
Dan Navarro's "NomadDan" Tour Carries On Into 2023!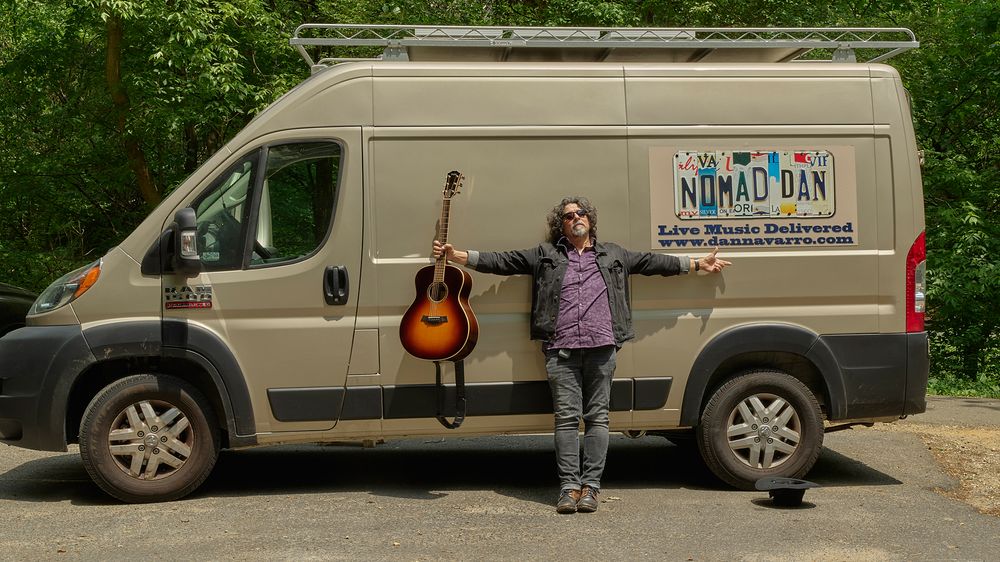 In 2021, Dan returned to the road in "Vanessa LeVan", covering over 65,000 miles through 38 states coast to coast. In 2023, Dan retired Vanessa temporarily. But he still is out on the in a Prius, through state after state! Come see what's up!
Photo by Carol M. Highsmith
More music from Dan Navarro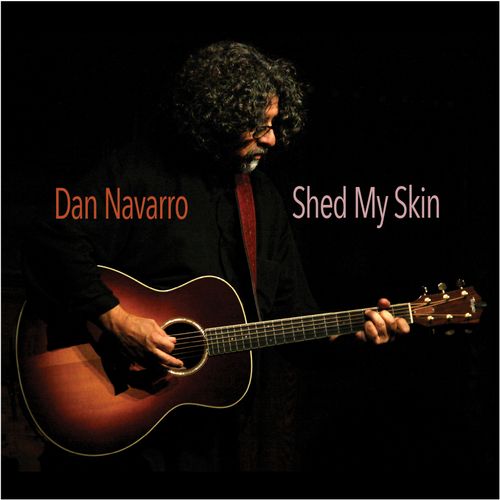 Shed My Skin
Dan Navarro (2019)
12 new songs, eight written by Dan Navarro, produced by Steve Postell with guest appearances from Janiva Magness, Wendy Waldman, Danny Kortchmar, Leland Sklar, Tony Furtato, Brother Sun, Grace Pettis, Freebo, Bob Malone and more.
"[Shed My Skin] bolts out strong right out of the gate, in a race to the heart of your genuine emotions. Navarro has a knack for rocking your heartstrings with his fluid acoustic licks and familiar sounding vocals, and "Shed My Skin" showcases that all the way."        — Melissa Clarke, Americana Highways / March 15, 2019
All Wood And Led
James Lee Stanley & Dan Navarro (2021)
Fourth in James Lee Stanley's series of "All Wood and..." duo recordings, featuring acoustic re-versions of songs by seminal artists, following "All Wood and Stones" I & II (with John Batdorf) and "All Wood and Doors" (with Cliff Eberhardt).
These acoustic re-imaginations of 12 Led Zeppelin songs were done as if they had lived in Laurel Canyon in 1968, instead of England. Featuring some of the hits and a few surprises, it's a treat for the ears and the mind, produced by James Lee Stanley and arranged by James and Dan Navarro.
You are visitor number: 35627